How to play using the HBMame emulator
The HomeBrew Mame emulator, short HBMame, is a port of the MAME emulator that supports homebrew games. Normal MAME emulators do not support the romhacks and result in checksum errors when trying to run the romhacks. HBMame has build-in support for most of the Donkey Kong romhacks. For recently released romhacks it may take a little time before HBMame adds support for it. HBMame uses its own specific versions of the roms. These must be downloaded from a specific website and are ready to be played. Using HBMame there is no need to perform patching.
---
Use the following procedure to prepare a HBMame environment and run the romhacks.
Download the HBMame UI emulator, available here: https://hbmame.1emulation.com/.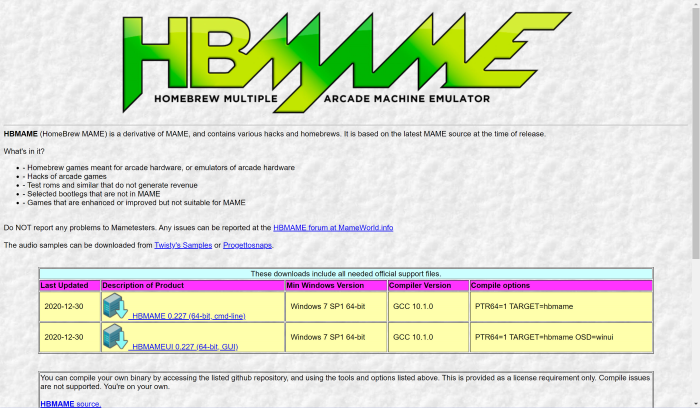 Create a 'HBMame' folder on the desktop and extract the contents of the downloaded HBMame .7z file to this folder.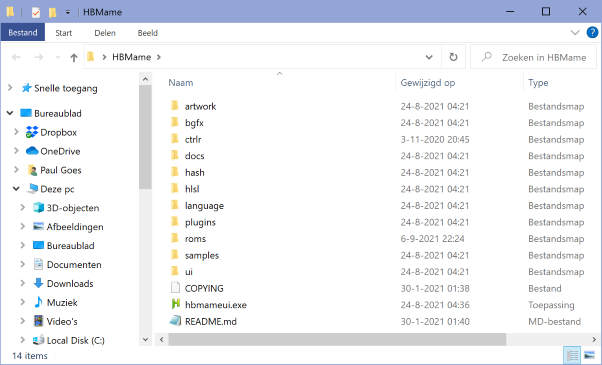 Download the romhacks from the RetroRoms site. This site needs registration, so if you are not registered do so here: https://www.retroroms.info/.
The romhacks are available by browsing on the RetroRoms site to 'Downloads -> Downloads/ -> hbmame/ -> currentroms/'.
A direct link to the romhacks is available here: direct link to HBMame roms.
The following romhacks need to be downloaded:
DKONG.ZIP - Original Donkey Kong
(Required to run the romhacks)

DKBARPAL.ZIP - DK Barrelpalooza
DKCBARREL.ZIP - DK Crazy Barrels
DKFREERUN.ZIP - DK Freerun Edition
DKONGAN.ZIP - DK Anniversary Edition
DKONGCE.ZIP - DK Championship Edition
DKONGDU.ZIP - DK Duel
DKONGHH.ZIP - DK Hearthunt
DKONGITD.ZIP - DK Into The Dark
DKONGKLC.ZIP - DK Championship Edition KL
DKONGOTR.ZIP - DK On The Run
DKONGREV.ZIP - DK Reverse
DKONGRND.ZIP - DK Randomized Edition
DKONGSS.ZIP - DK Skip Start
DKONGTJ.ZIP - DK Twisted Jungle
DKRNDMZR.ZIP - DK RNDMZR
DKSPRFIN.ZIP - DK Springfinity
DKWIZARD.ZIP - DK Wizardry
Copy these romfiles into the 'roms' subfolder of the 'HBMame' folder.
Start the HBMame emulator by double clicking on the 'hbmameui.exe' executable in the 'HBMame' folder.
Navigate in the left pane to 'Manufacturer->PaulGoes':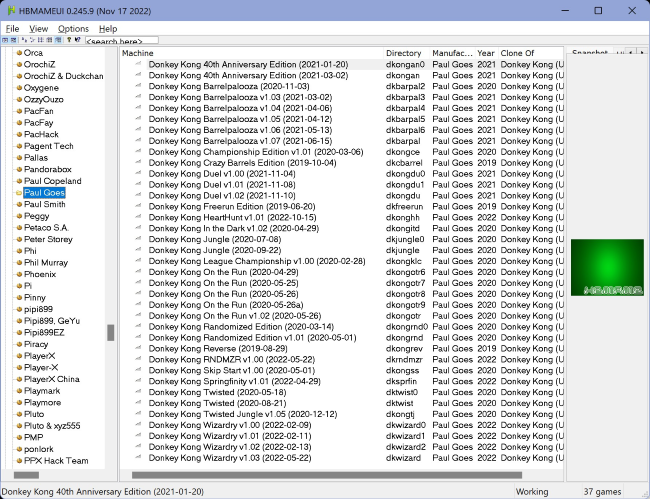 Right click the romhack you want to play and select 'Play romhack':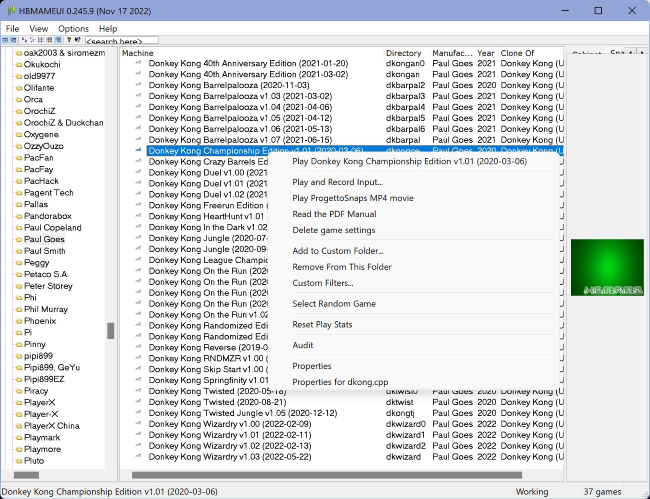 The romhack will start: enjoy the game !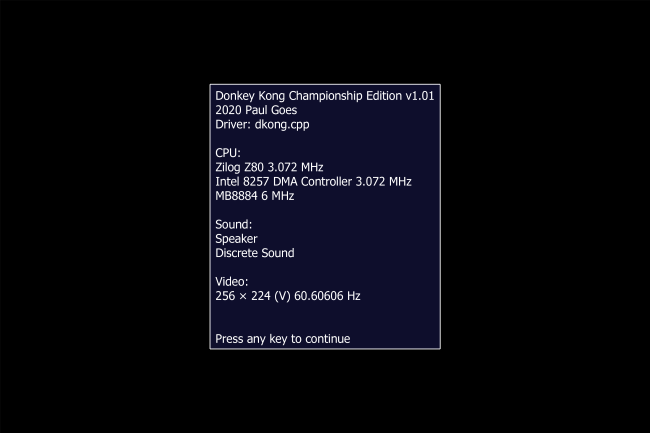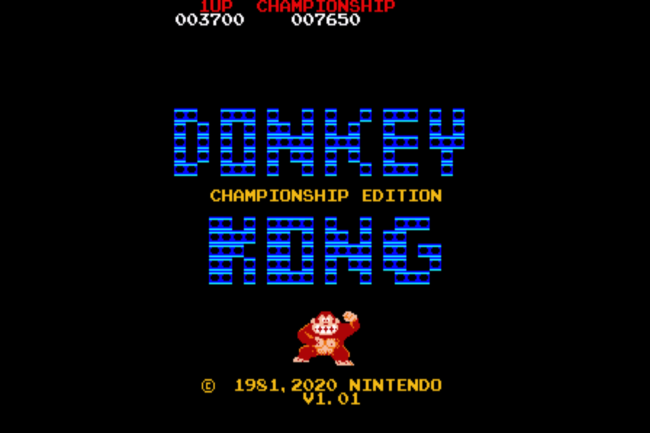 Controls
Press '5' to insert coins
Press '1' to start a one player game
Press '2' to start a two player game
Move by using the 'arrow' keys
Jump using the 'Ctrl' key
---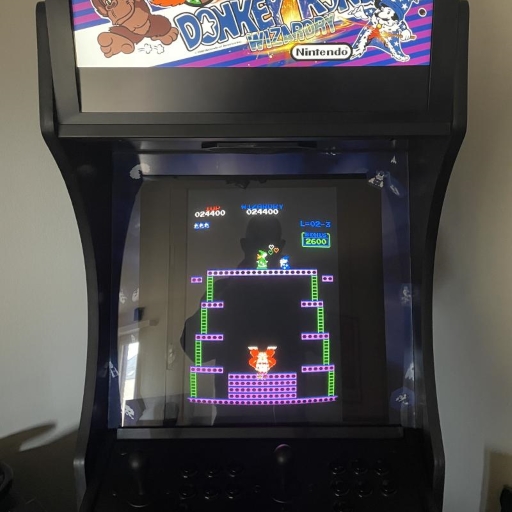 The romhack 'Donkey Kong Wizardry' running on an HB Mame based cabinet.